Published On: Sunday, November 11, 2012 4:04 AM
By:
Sarah Weiss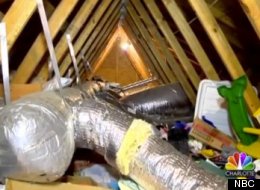 Attic belonging to Tracy
(Scroll down for video) A woman was horrified after finding her former boyfriend living in her attic 12 years after they broke up.
Tracy, a Rock Hill, South Carolina resident and single mother of five children, said she heard a knock at the ceiling and saw the nails start to jump from the roof of her bedroom last week.
Around 2:30 am Tracy felt as if "something is not right," according to the news media. When she heard noises in the attic and saw nails popping out, she thought "there might be some strange ghost up there."
It was not the devil dancing on the ceiling. It was her former boyfriend, who had been living in her attic for about two weeks since being released from prison, according to the local news media.
The two had broken up more than 12 years ago. She never considered getting back with him, despite him claiming in letters from jail that he had changed. She thought he had gone to Charlotte after his latest arrest.
Her adult children and her nephew found him asleep in the back of the attic. "They found a man. He had packed all the old coats and jackets on the heating unit and was sleeping in the heating unit," Tracy said. The former boyfriend ran downstairs and out of the house before police arrived.
They found several "Route 44" Sonic cups filled with feces and urine, according to a newspaper. They
also saw that the former boyfriend had rigged the roof vents to be able to look down at Tracy in her bedroom from his spot in the attic.
The only access to the attic is through a door from inside the house, in the hallway connecting the bedrooms of her children, according to a newspaper.
"It has surprised me," Tracy said. "How can someone look through an air duct?"
The suspect remains at large. He is described as a black male, 5 feet 6 inches tall and weighing 170 pounds.
Mobile video not loading? Click here to view