Published On: Sunday, January 20, 2013 1:30 AM
By:
Ryan Lee Hall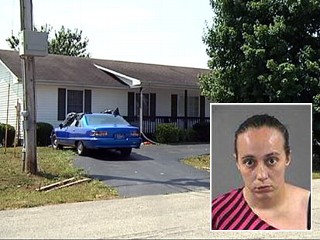 Jackie Farah
19 children were left alone in a house in the heat without food and air condition.
A Bowling Green woman has been charged with child abuse after authorities removed 19 minors who said they stayed for a week unattended at home with no air conditioning and it was steamy hot.
The local sheriff's office responded to a request for a welfare check at a home at 130 Kingston Road at 11:30 pm
.
When officers arrived, they found 19 children aged 8 months to 14 years old without supervision, without air conditioning or food.
All children were transported and treated at the Medical Center and then placed under protective custody of the state.
Jackie Farah, 32, is charged with 14 counts of first-degree child abuse and five counts of child endangerment. Authorities said Farah is the biological mother of some of the children involved and asked neighbors to check on the children while she was gone.
She was traveling from Chicago to Bowling Green, when authorities found the children and instructed to report immediately to the sheriff's office. Farah was arrested Tuesday afternoon after
speaking with the authorities.
Nine dogs and a cat were also removed from the residence. Authorities said the living conditions were found to be unacceptable to the youth and animals.
When police arrived at the house, the temperature was above 90 degrees. Social workers from the Department of Health and Family Services was contacted and responded to the scene.
The sheriff's department is still investigating.