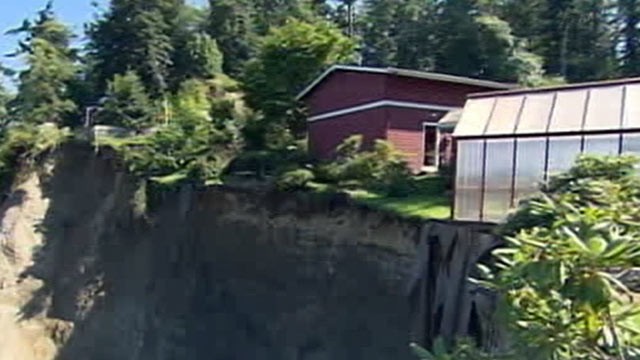 Front yard just falls off a cliff piece by piece
By:
Ryan Lee Hall
(Scroll down for video) The front yard just disappeared in front of their eyes.

A couple of Whidbey Island has been watching their front yard disappearing, falling piece by piece over a cliff 200 feet deep.

The worst is that they were unable to stop it.

Roy and his wife Rosalee Ballinger have seen the pieces fall. They see the hole 50 feet wide, where a tree 500 years old, once stood. .

"Suddenly one day, there was a geyser that squirted probably 25, 30 feet in the air," he said.

The geyser seemed to come from nowhere. "We cried and laughed," said Rosallee. "I do not know what we will do. It's devastating, absolutely devastating."

Roy said he did not think it will get his home destroyed, but said his store, that he calls his pride and joy, is definitely on the path of destruction.

"I know of no way to stop it," he said. "Only God will have to stop it."

The fire department is concerned about the decline, too. Hidden in the earth is a propane tank underground. On Wednesday morning the tank was 12 feet from the edge, but this afternoon it was just 12 inches.

"It could explode a valve, or slip down the slope innocently. We do not know," said Assistant Fire Chief Mike Cotton.

The water department and the fire department checked all the lines in the area and found no leaks. They say the likely cause is a natural spring that apparently changed its course.

There are no homes below the Ballinger property.