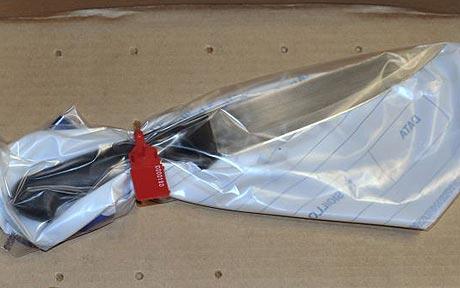 Knife that was used
By:
John Roberts&nbsp
A man who wanted to punish his wife for cheating decided to slash the throat of their baby.

The man, whose name cannot be released to protect the identity of the child, stabbed his 11-month-old, after becoming enraged at the child's mother.

The 33-year-old father appeared in a Calgary, Alberta court for sentencing last week. He had pleaded guilty earlier to one count of aggravated assault.

In passing his sentence, Judge Mike Dinkel, said:

"In a very cold-blooded and calculating manner he put the child on the floor, took off his clothes and cut him twice. The defendant used the attack on the child to inflict pain to the mother. The child was a tool. It was based on anger, rage and jealousy by the mistaken belief that his wife was cheating. He knew what he was doing with the intent to cause harm."

The parents had separated and the man was babysitting while his wife went out. In the early hours of the morning, when his wife had not returned home, the father became enraged and slashed his son. Then he called 911 about 4 am.

As the news media reports, the father can be heard on the 911 tape, played in court before the proceeding, crying and saying how much he loves his baby. Then he begged the police to come and shoot him. But when officers arrived, the man held them at bay for a while wielding the knife he used to stab his son. That prevented the child from getting immediate medical attention this was used as an aggravating factor in sentencing.

The news media reports that the child received a 20 centimeter long cut to his abdomen and his throat cut was 15 inches long. The cut in the throat barely missed major arteries. The boy, who had lost a quarter of his blood, was rushed to the hospital in critical condition. He survived and is expected to recover fully.

The father was originally charged with attempted murder, but was allowed to plead guilty to aggravated assault.
The prosecutor had asked for a sentence of between six and seven years, while the man's lawyer, Alain Hepner, called for a sentence of between 2 1/2 to three years in prison. Both lawyers seemed to be satisfied with the five year jail sentence that was imposed.

The father, who has been in custody since his arrest, faces an effective sentence of three years and 11 months.