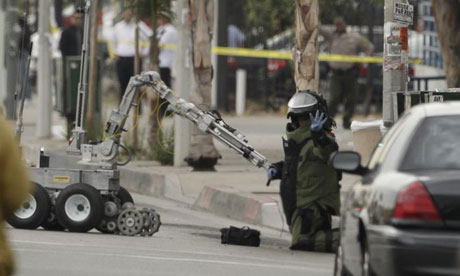 Bomb squad working on the bomb
By:
John Roberts&nbsp
(Scroll down for video) Bank robbers managed to get the bank manager to rob the bank for them.

Two hooded criminals kidnapped a bank manager, tied what they said were explosives around her stomach and ordered her to rob the bank, Los Angeles police said.

The woman was kidnapped on Tuesday night and was held overnight, according to the local news media. She was taken to the Bank of America, where she worked around 8:30 am the next day and was instructed to rob it.

"A device was strapped to her body," said Capt. Mike Parker of the Department of the Los Angeles County Sheriff. "She was told that it was explosives and they directed her to go to the bank, take all the money. She did as she feared for her life."

"While inside the bank, other employees were present. She explained what was happening," said Parker. "She took the money out of the bank and threw it out the door to the bank robbers."

The thieves wearing ski masks escaped with the money in a two-door car, possibly a white Kia, according to the local news media reporting the incident.

The bank manager was left behind with the device strapped on her. Police called in a bomb squad. Investigators from the Los Angeles County Sheriff and FBI agents, including bomb technicians responded to the scene.

The device was removed from the woman and the bomb was detonated by a robot, according to authorities. The two robbers are still at large.


Mobile video not loading? Click here to view