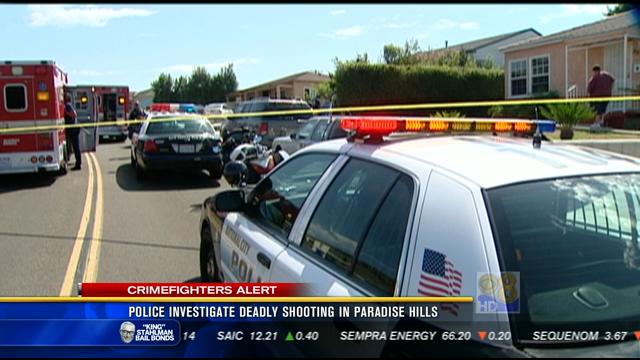 Scene of the shooting
By:
David Ross&nbsp
A fight over car damage between a father and his stepson resulted in a killing.

Authorities said a 75-year-old shot and killed his stepson in a dispute over damage to a car.

San Diego police told a local newspaper that Thomas Bethel went to his stepson's Paradise Hills home and confronted him about a car that had been vandalized earlier in the day.

Detectives say that the stepson aged 54, apparently hit Bethel in the head with an iron bar before Bethel shot his stepson that killed him.

Neighbors called the police to the scene of the shooting where they found the victim, 54-years-old, lying in the front yard with what appeared to be at least one gunshot wound. He was pronounced dead at the scene.

Officials say Bethel was booked into the County Jail in San Diego after being treated at a hospital for a traumatic head injury.

The stepson's name was not immediately released. An attorney for Bethel said his client was only defending himself from his stepson's iron bar assault and should have not been charged at all.