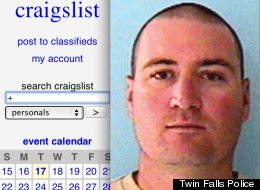 Justin Crawford, set up men to rape his wife
By:
John Roberts&nbsp
(Scroll down for video) An Idaho man was arrested for soliciting men to rape his wife through a publication in the "Casual Encounters" section of Craigslist.

Justin Crawford, a 32-year-old Twin Falls man was arraigned on charges of solicitation of rape and theft. His bail was set at $100,000.

Prosecutors say that without his wife's knowledge or consent, the man posted an advert masquerading as a woman who fantasized about being raped, and then exchanged emails with men who responded to organize the attacks.

Twin Falls police were called to the woman's house shortly after midnight on Thursday and again Saturday afternoon to reports that two different men had broken into the home.

The woman told police a man knocked on the door early Friday, asked for her name and then said: "I'm here for you", before forcing his way into the home.

The woman said the man chased her around the house. She entered the bedroom to catch a 9 mm gun, but the man grabbed the gun. The gun went off during the fight. No one was injured, but she said the man fled.

She also fired a shot on Saturday and held a man at gunpoint until police arrived, according to court records.

Investigators said the second man told police he was responding to a Craigslist advertisement.

"The person posting the ad said she wanted to be raped by force, because it was a fantasy," said the police officer.
The police report said several e-mails were exchanged between the man and the person who posted the advertisement. The man gave him the address of the house.

"He was told to make his way inside the house and rape the woman there and not leave no matter how much she resisted," the report said.

Police said they found e-mails that originated from an email address belonging to the woman's husband. Agents also searched the house phone and one belonging to her husband.

Court records say the husband admitted to authoring the Craigslist advertisement and to the email account.