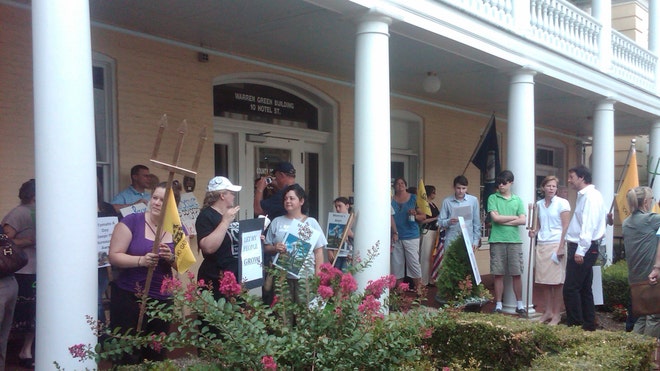 Protest, after woman was threatened with fines for holding a birthday party
By:
John Roberts&nbsp
A woman was threatened with a $5,000 fine after holding a birthday party without a proper permit, among other violations.

Virginia farmers gathered to support a woman claiming local officials harassed her, among other things, for hosting a children's birthday party on her property.

Marta Boneta, owner of the Liberty Farms in the northern village of Paris, was threatened by almost $5,000 in fines for selling products and handicrafts and throwing events without a license, including a birthday party for the son of her best friend. She told the news media that she was not doing anything that farmers have not done for generations, and at a recent meeting of the Board of agricultural zoning, friends, literally, showed up with pitchforks to express their support.

"It's quite strange that I am the only farmer in the county that has these problems," Boneta said. "It is normal for farmers to do these things. It is done on farms across Virginia to help farming and agriculture."

Boneta said she was told that she did not have the appropriate permissions for the festival events and other events, such as wine tasting, craft workshops and pumpkin carving.

"Why would I need a permit for a pumpkin carving?" She said. Boneta was supported by other farmers in the county who feared they would face similar fines and joined her at a hearing, which is when they held a pitchfork protest in which they had signs and tools for agriculture in support of Liberty Farms and its owner.