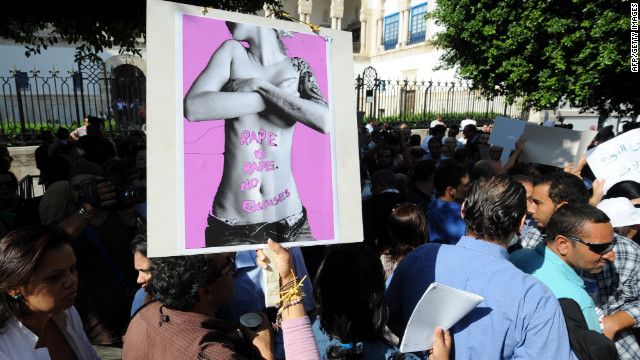 Angry protesters E
By:
John Roberts&nbsp
A woman who was raped by police officers was charged with indecent exposure after she filed a police complaint against the police officers.

After learning about the charges, outraged Tunisians took to the streets to this week, angrily protesting the treatment of a woman who was raped allegedly by police and later charged with public indecency when she filed a complaint.

"By persecuting the victim of rape by the police rather than protect her against intimidation and stigma, highlights the deep flaws in Tunisian law and the criminal justice system," Hassiba Hadj Sahraoui, deputy of the Middle East and North Africa Amnesty International said.

"At worst, it is an insidious attempt to discredit a rape victim and protect those accused of raping her."

The case began when three police officers approached the woman and her boyfriend while they were in his car in the capital Tunis, the woman's lawyer told Amnesty. Two officers then raped the woman inside the car, while the third took her boyfriend to a nearby ATM to get money from him, she said.

It was only after she filed a complaint against the officers of rape and extortion that officers said they found the couple in an immoral position in the car. "This first case shocked the public after the innocent woman was raped by police," Salah Eddine El Jorshi of the Tunisian League of Human Rights said. "But when the verdict was announced, we were shocked that they tried to take this to another level by persecuting the victim."

Authorities have not specified what it means by immoral position, but the statement was later repeated by the interior ministry, Amnesty said. The couple was accused of intentional indecent behavior, which could carry up to six months in prison.

Both have denied the allegations. Tuesday's session is the second of what is expected to be several hearings on the matter.