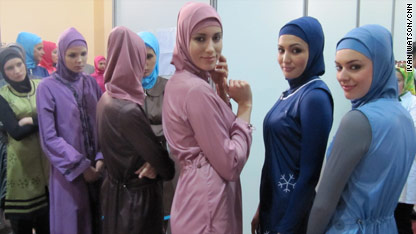 Muslim girls in swimsuits
By:
Ryan Lee Hall&nbsp
A Muslim girl pleaded with the court to be allowed to skip swim classes as she was uncomfortable to be too close to shirtless boys, according to reports.

The German court however refused to allow the Muslim student to skip swimming lessons.

The 12-year-old native of Morocco, who goes to school in the southern German city of Frankfurt, had refused to participate in swimming lessons and was marked accordingly.

She filed a court motion to have the right to skip classes, her lawyer argued that according to the Koran, she was not only prohibited from showing herself naked to boys, but also to see other naked boys. An administrative court in Kassel, West Germany, rejected her application.

The court said in its ruling that she could bring a long swimsuit, known as the "burkini", as used by several girls in her school, which would be enough to guarantee religious freedom. The family had decided to live in Germany, where mixed swimming classes were the norm, the court said.

One of the goals of the school system was to promote integration and tolerance, the Court added, citing a ruling by the German constitutional court. The applicant must endure the sight of her classmates in their swimming suits, the court said.