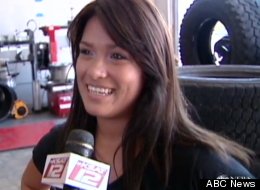 Andrea Rodriguez
By:
Eva Fett&nbsp
(Scroll down for video) Several women have decided to take on the typical man owned store, the tire shop.

In San Antonio, Texas, there is a certain irony that Pep Boys is across the street. Not because it is a small business that thrives in the shade of a chain store, but because Treds Tire And Wheel is being run entirely by women.

"I am a firm believer that women can do things men can do," said manager Andrea Rodriguez, 19. "I have four brothers, so I was raised with that mentality. I can do things that my brothers could do."

The way Rodriguez sees it that no matter what color the jack is the garage girls just do a great job in all directions. "We are determined to do the job well. Just because we're girls, does not mean that we know nothing. We definitely know a lot," Andrea told the news media.

So far, the men's store did not seem to mind, but the ladies think that their friendship has more to do with the view more than anything else. "They flirt, but keep everything professional," said Erica Hinkle, a mechanic in the workshop.

Andrea's mom bought the property a few months ago planning for a tire shop. Several previous tire stores in the place had not done well before, but the girls say business has been stable so far. Andrea came up with the idea of an auto shop run by women, and said finding employees was a snap.

The store currently has six full-time women employees and an intern.

Treds Tires And Wheels is not the only business seeking to appeal to the female sensibility. Bic Pens made a dubious move towards women earlier this year when the company launched a "for her" styled pen. The product won more than a few hilarious satire reviews on Amazon, but last time checked, Bic continues to push the idea.


Mobile video not loading? Click here to view