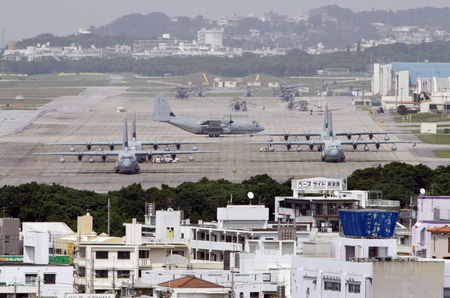 U.S. military base in Japan
By:
Ryan Lee Hall&nbsp
Residents of a Japanese island long complained of a large amount of violence by U.S. troops.

Two U.S. soldiers have now been arrested for the alleged rape of a Japanese woman on the island of Okinawa.

The two men, identified as 23-year-old sailors, were arrested by police in the southern island on Tuesday.

Defense Minister Satoshi Morimoto of Japan called the incident a serious crime and the U.S. envoy said that it is taking the incident very seriously. The U.S. has about 26,000 troops in Okinawa, where there is strong opposition to the ongoing military presence.

A gang rape in 1995 of a 12-year-old by three U.S. service personnel on the island sparked outrage and led to efforts to reduce the U.S. military footprint. But the measures, which include the closure of a key air base and its replacement by a new base in the north of the island, have stalled amid entrenched opposition in Okinawa for the construction of the new base.

The two sailors are in the custody of police in Okinawa after the alleged incident occurred early Tuesday.

In a statement, Ambassador John Roos said the U.S. was extremely concerned about recent allegations of misconduct by two members of the service staff of the United States. "We are committed to full cooperation with the Japanese authorities in their investigation," he said. About half of all U.S. troops in Japan are stationed in Okinawa, located south of the main Japanese islands in the East China Sea.