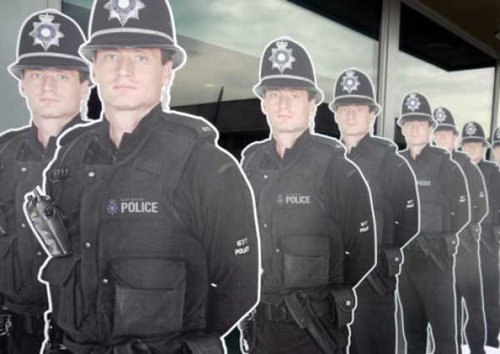 Life size cardboard cutouts of police officers
By:
Sarah Weiss&nbsp
The police force in England, found a way to decrease crime while not increasing their monthly budget.

Police in South Yorkshire, have spent $9,000 on new recruits of 280 cardboard cut-out images of police officers.

The life-size cutouts of uniformed police officers are used to deter thieves from shoplifting. Detectives claim that the cutouts have helped reduce crime by 50 percent in some areas where they have been deployed.

South Yorkshire Police have recorded an 8 percent increase in crimes of theft, compared to the same three month period of last year. To address the rising crime, a retail crime team was established. This team has been working closely with retailers to combat the growing number thefts.

Officials in England, have been increasing police presence as part of a crackdown on retail crime such as shoplifting. The effort includes undercover officers patrolling the shops, uniformed officers conducting searches for stolen goods and life-size cutouts of uniformed police officers.

So far, 19 people have been arrested for various crimes, as part of the crackdown on retail crimes. Following the arrests of the suspects, houses and vehicles were searched which provided valuable information to help police further reduce crime.